Arnold Recht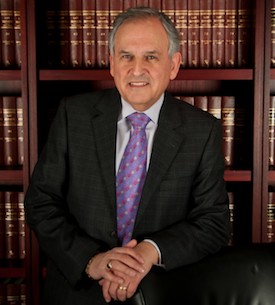 Arnold Recht is the senior managing partner of the Firm and specializes in plaintiff and defence personal injury matters. Mr. Recht brings over 35 years of court room experience to maximizing his clients' results.
Arnold Recht was called to the Bar in April, 1976 and since then has practised law in the area of civil litigation. He is presently the senior managing partner of the law firm of Danson Recht LLP with two offices in the greater downtown Toronto area.
Mr. Recht's practice has involved acting for numerous insurance companies in the defence of bodily injury and commercial insurance claims. He has also been retained by various insurance companies in the United States to represent their interests in the Province of Ontario.
Mr. Recht also handles personal injuries for individual plaintiffs when he has no conflicts with the insurers that he represents. Additionally, Mr. Recht handles individual commercial matters.
Mr. Recht is a respected member of the Ontario and Canadian Bar Associations. With years of practice and expertise in his area of practice, it has allowed him to act as a consultant for a number of law firms who seek his expertise in various matters.
Mr. Recht has appeared in numerous trials both defending and prosecuting claims. His trial work has taken him to every corner of the Province of Ontario. He is at ease in court both with and without a jury and Judges recognize him for his competence when conducting trials.
Mr. Recht has been involved in numerous community affairs as he believes it is incumbent upon successful individuals to give back to their respective communities. His main charitable cause is the Canadian Technion Society with which he has been involved for almost 30 years. This organization is an arm of the Technion Israel Institute of Technology, the world famous university in Israel which is a leader in high tech research and medical scientific development. This institution recently had two of its scientists awarded Nobel prizes.
Mr. Recht has held every conceivable position within the Canadian Technion Society and is also a member of the international Board of Governors and holds various positions on the Board, including being a Director of the prestigious Peter Munk Research Institute.
The Technion Israel Institute has recognized the services of Mr. Recht by awarding him a Honorary Fellowship in 1994 and then by giving him the highest award that the university  can bestow upon a non-academic, that being an Honorary Doctorate. He has also been honoured within the Toronto community by a number of dinners which have been used to raise substantial funds for the organization. He was last honoured in May, 2007 at a gala function at the Four Seasons Hotel in Toronto.
Additionally, Mr. Recht is involved in business facilitation for investment ventures.  These business dealings are not only confined to Canada, but they take him to Eastern Europe and the Middle East.
Mr. Recht has an impeccable, reputation for his concern and welfare of his clients. He is an individual that has the clients utmost interests at heart and his peers have readily recognized these values.